Note to the parent in this story: If you find this blog, I recommend you abandon your legal practice, travel to Hollywood, and write the threats that inevitably find their way into action movies. You, sir, are a real talent.
But, dude, you said these things to a priest. What were you thinking?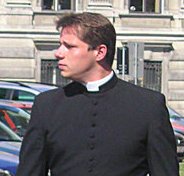 A few weeks ago I was sitting in church, listening to the sermon. The priest was visiting from a nearby college, where he is one of the deans. He was edgy, irreverent. I liked him right away. He told us this story that began with "Princess," his term of endearment for one of the summer school students enrolled at his college.
Princess did not take any classes from the priest. He's an administrative dean. But he returned to his office one morning, where the girl's dad left this message on the answering machine. The caller introduced himself as a parent and practicing attorney:
"Father, I think you should look at the grade my daughter received on her last paper. I recommend you read the paper, start to finish, and consider very carefully whether it's really a C. Because if you don't, I'll sue you personally. I'll sue the college and the professor who gave it to her. I'll sue for tuition, for my daughter's transportation expense, and for the reduction in earnings that follow grades like these over the course of a forty-five year career. Forty-five years, Father, forty-five years. I'll sue for pain and suffering. Not only hers but everybody else's in the family. We're all completely distraught. My wife didn't sleep last night, and now I'm not sure she can get out of bed. Which, as you might guess, is taking an enormous toll on me. I'm ready to sue for her medical expenses, and I'm sure you know what they cost these days. But, Father, it's been a pleasure speaking with your machine…really. I hope you have a nice day."
Dial tone.
After church, I raced home and recorded this threat right away. My point is—the dialogue is really, really close to what the priest told us that day. But now, as I'm re-reading his words, I can't help but wonder:
Is this dad's rant the new normal?